Updated: 8/30/23
For in stock, ready-to-ship CNC compatible plasma cutters checkout Dr. D-Flo's Amazon Store.
Introduction to Plasma Cutters
Computer Controlled (CNC) plasma cutting is one of the fastest and most affordable techniques for producing metal parts. In recent years, there has been a flood of self-proclaimed "CNC-ready" plasma cutters for sale on Amazon and eBay. However, as shown in Dr. D-Flo's How to Build a CNC Plasma Cutter video, some of these units are not suitable for mechanized cutting as they produce electrical noise or fail to initiate a plasma arc reliably. This guide will cover plasma cutting technology, commerical products, and what features are needed when used on a CNC table. Below is a list of hobbyist and prosumer units that are actually CNC ready.
Dr. D-Flo's pick for the best hobbyist plasma cutter and his current cutter are at the end of this guide.
Operating Principle of Plasma Cutting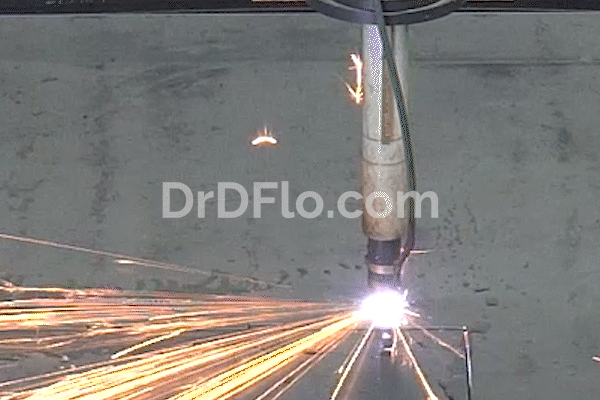 Plasma cutting relies on a superheated plasma, which can reach temperatures of 30,000 °C, to melt metal that it comes in contact with. Simultaneously, a high-velocity stream of gas blows the molten metal away from the cut, creating a clean, precise separation between the part and scrap material. Plasma is created through an electrical arc that forms between the cutting tool or torch and the stock material as the electrons attempt to flow back to the power supply. The need for a conductive workpiece limits this technology to cutting metals only. However, this technique can process both ferrous and non-ferrous metals from as thin as 0.5 mm (0.02") to 25 mm (1") or greater in thickness. Compared to other CNC metal cutting techniques, such as water jet and fiber laser, plasma cutting is the most affordable.
Cutting Capacity
The maximum thickness of material that you plan to cut will dictate the amperage that the plasma cutter will need. The rule of thumb is that a 20A cutter can sever 1/8" (~ 3.1mm) material and each additional 10A will add another 1/8" of capacity. For example, 30A can cut through 1/4", 40A can get through 3/8", and so on. In addition to being able to sever thicker plates, power supplies that generate more intense plasmas (higher amperage) can cut thinner material quicker. For this reason, it is always advised to purchase the most powerful plasma cutter that can be justified by your budget and can be supported by the electrical service of your shop/garage.
Duty Cycle
Most small form factor plasma cutters, especially those meant for manual cutting, cannot operate continuously at their max amperage. The duty cycle refers to how long a machine can be run continuously or intermittently within a 10 minute period. For example, a plasma cutter with a 70% duty cycle at 50 A can be run for 7 out of the 10 minutes but will require at least 3 minutes off to maintain safe operating temperatures. If a user attempts to cut for longer than the rated duty cycle, then the plasma cutter may attenuate the power or shut off completely.
With mechanized plasma cutting, it is ideal to have a plasma cutter with a 100% duty cycle at your desired amperage, so that delays do not have to be considered during the motion planning. However, most low-cost plasma cutters have a duty cycle of around 40 to 60% at their max power rating, and users will have to be mindful that they don't take too long of cuts. Typically, higher duty cycles can be achieved by using less power (lower current). If you want to cut at 40A (up to 3/8" material), then it is suggested to purchase a plasma cutter rated for 55A to achieve a higher duty cycle at 40A.
Power Requirements
For garage/shed plasma cutting 40A plasma cutters are recommended, which typically allows for 100% duty cycle at 30A for reliably cutting up to 1/4" material. You can get away with a 30A 240V breaker/plug (although 40A or 50A is preferable), which is commonly used for washers and dryers.
65A and 85A plasma cutters will require circuits that can handle at least 45A and 60A at 240V, respectively.
Caution: Always check with your Plasma Cutter's manual to ensure that the electrical circuit is rated for the required current and has an appropriately sized breaker.
Plasma Gas
Plasma cutters are not only power hungry but they also consume compressed air like there is no tomorrow. Compressed air flowing out of the plasma cutter's nozzle is used to blow away the molten material during the cutting process. It also keeps the torch cool and funnels the plasma stream into a tight column for accurate cuts. Not having an appropriately sized air compressor can result in poor cuts (see more details below).
The power and air requirements of the plasma cutter are the biggest hurdles for the hobbyist to overcome. If you stick with cutting thin material, then these requirments become less of a hassle.
High vs. Low Frequency Plasma Cutters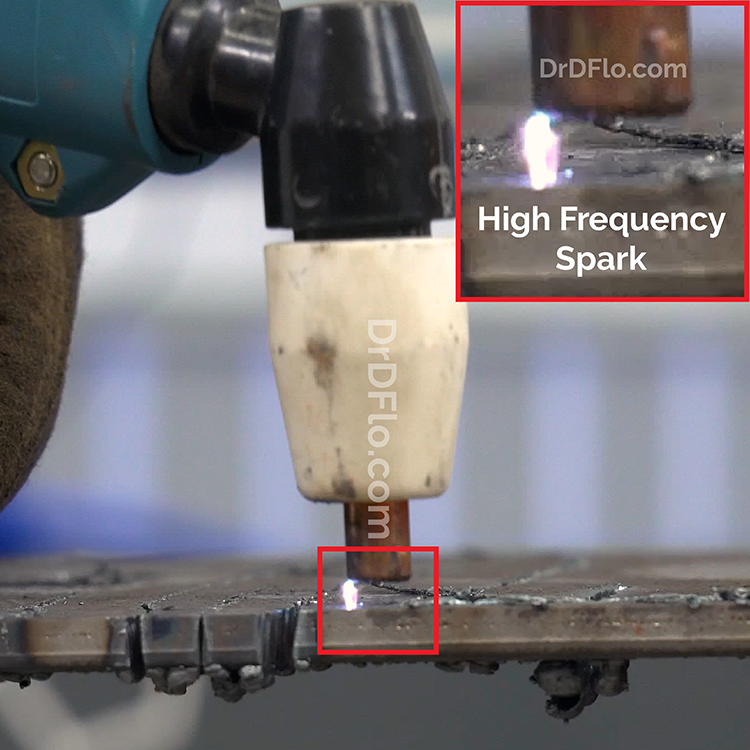 High Frequency Start
Unfortunately, not all plasma cutters are suitable for hobbyist CNC tables. Plasma cutters that rely on a high frequency (HF) AC voltage to start the plasma stream radiate a significant amount of electromagnetic interference (EMI). Proper grounding and an industrial control are needed to avoid erratic behavior of the machine when using a HF plasma cutter.
Blowback Start
Less noisy plasma cutters use a technology known as "blowback" or "moving" start, where a moveable, spring-loaded electrode and a DC spark start the plasma stream. Blowback start plasma cutters produce significantly less EMI and can be used around CNC microcontrollers and electronics that have not been engineered to withstand high levels of electrical noise. Blowback start has a slightly higher upfront and maintenance cost, but this fee is significantly less than purchasing a CNC table that is hardened to EMI. All plasma cutters listed below use blowback start.
Pilot Arc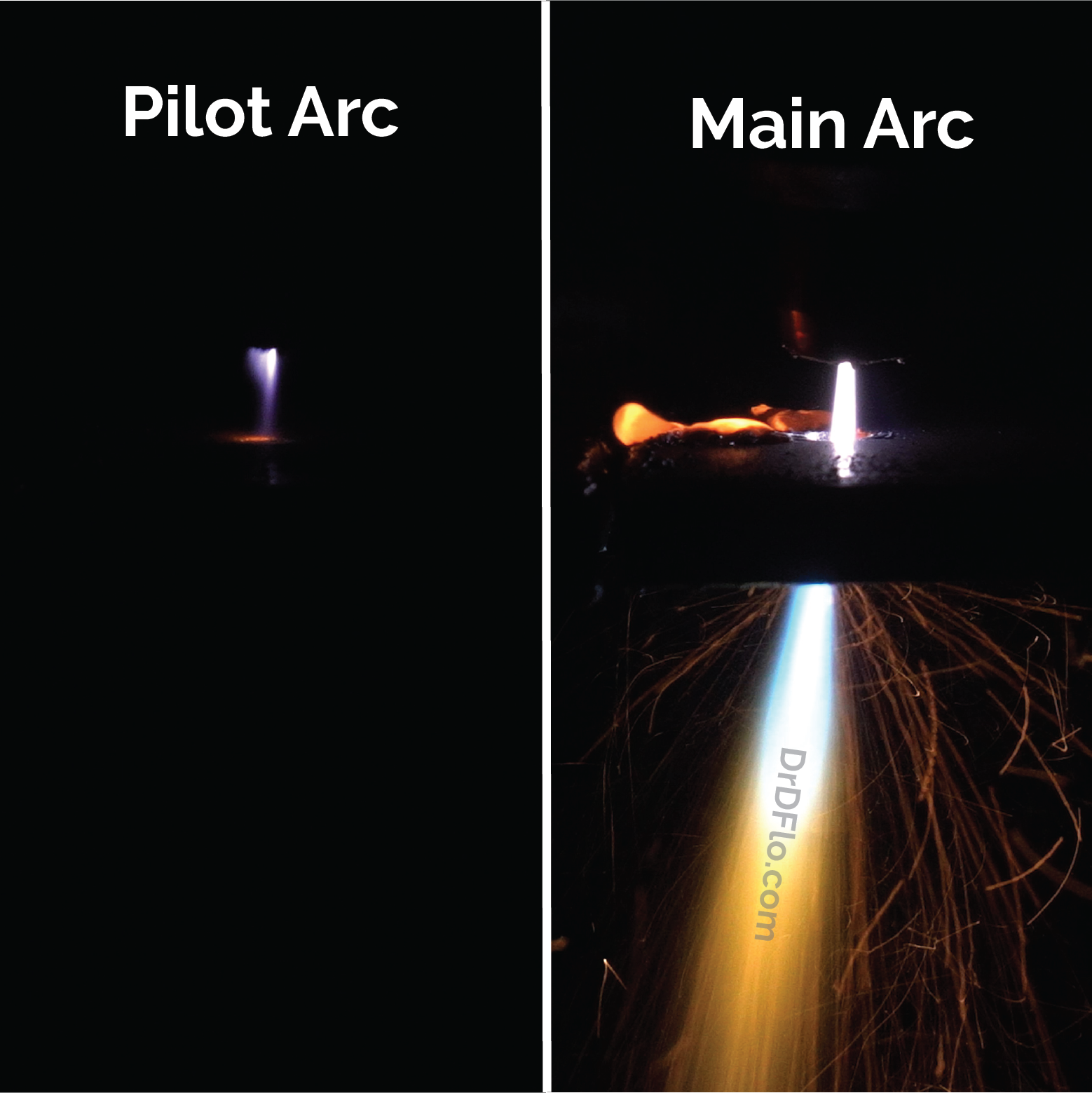 A pilot arc is a secondary arc that is formed prior to ignition of the main arc that will cut the material. Plasma cutters that support pilot arcs will have a positive connection within the torch that allows for the pilot arc to be ignited even when the torch is not close to the material that will be cut. The pilot arc can slice through paint and rust, allowing for a consistent primary arc start. This consistency is important in CNC applications because the primary arc is turned on and off many times during a program to move to separate features.
A common assumption is that if a plasma cutter has a pilot arc, then it is low frequency. This is NOT the case. Low and high frequency plasma cutters can have pilot arcs.
CNC Accessible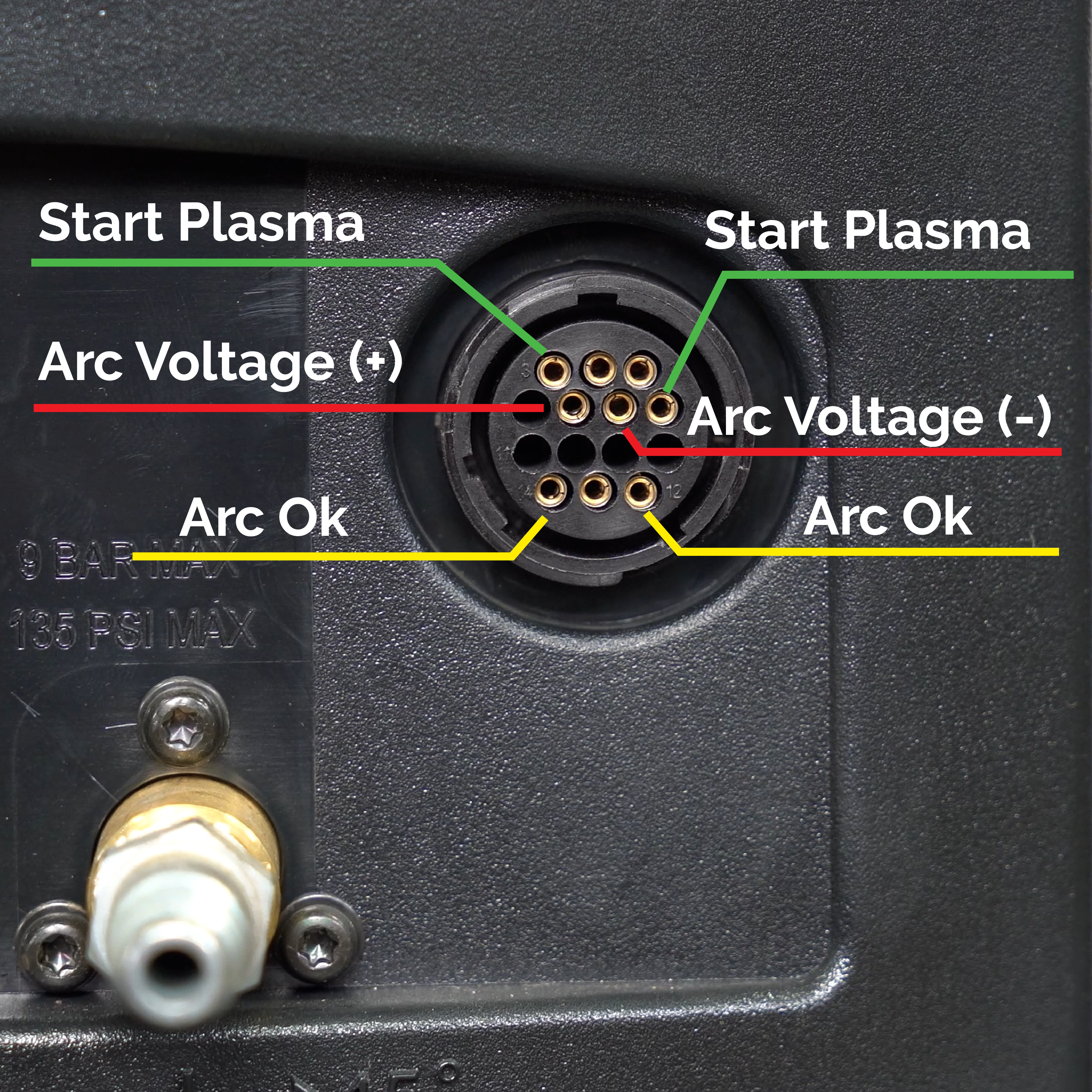 Start/Trigger Signal
When plasma cutting metal plate by hand you pull the trigger to initiate the arc and let go of the trigger to end the cut. If the plasma arc fails to establish or extinguishes mid-cut, then you pull the trigger again and restart the cut or replace the worn consumables before trying again. When using a torch for mechanized cutting, the controller needs a way to initiate the arc through a digital signal. This trigger signal is the minimum communication required between the controller and the plasma cutter. Most plasma cutters on the list below have a connector for this signal on the front or back of the power supply but some may require you to splice into wires within the powersupply. This was demonstrated on a Cutmaster 40, which can be seen here. Because this approach presents an electrical hazard, always opt for a cutter with an external trigger connection.
Caution: Handing over control of the trigger signal to a DIY motion controller can result in the torch misfiring. Always unplug the power supply and plasma table before working on the torch.
Arc Ok Signal
The "arc ok" signal relays the status of the of the plasma arc (on or off) to the controller. If the plasma arc fails to fire after the trigger signal, then the controller can pause the cutting operation and wait for the operator to service the torch (replace consumables, check compressed air, etc.). An external "arc ok" signal is usually only present on plasma cutters specifically marketed for CNC applications.
Arc Voltage Signal (THC)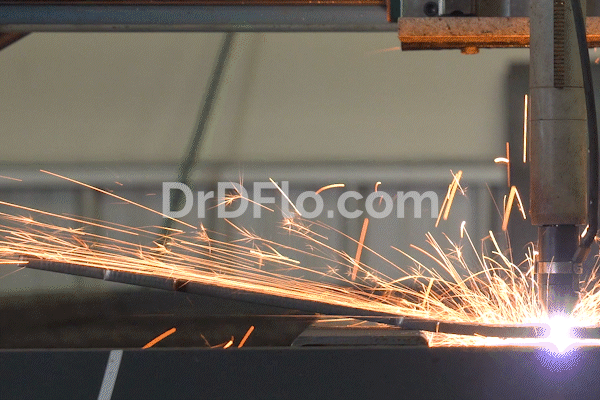 Cutting large sheets can present problems for mechanized cutting because these sheets may not be flat to begin with or may warp during the cut. This is not a significant problem for small plasma tables (< 2'x2), but for machines that support 4'x8' sheets then the torch is likely to collide with the metal if it warps. To control for the variation in the height of the stock material, plasma tables must be able to respond to the changing distance between the torch's nozzle and the top of the material. This is accomplished through measuring the voltage of the plasma arc during the cutting process. Because the amperage of the plasma cutter is held constant, the voltage will increase if the spacing between the torch and the material increases as there will be greater resistance to the flow of current. The opposite is true if the arc voltage decreases, which means the nozzle is too close to the material. The controller can measure the arc voltage to determine the distance between material and torch and adjust the torch's height in response. This process is known as Torch Height Control (THC).
Caution: Connecting the plasma table's controller directing to the arc voltage will fry it. A voltage divider is required to step down the arc voltage (100-150 V) to a level that can be safely measured by the controller board. Many low-cost plasma cutters have the arc voltage accessible through the CNC port but do not include an internal voltage divider.
Manual vs. Machine Torches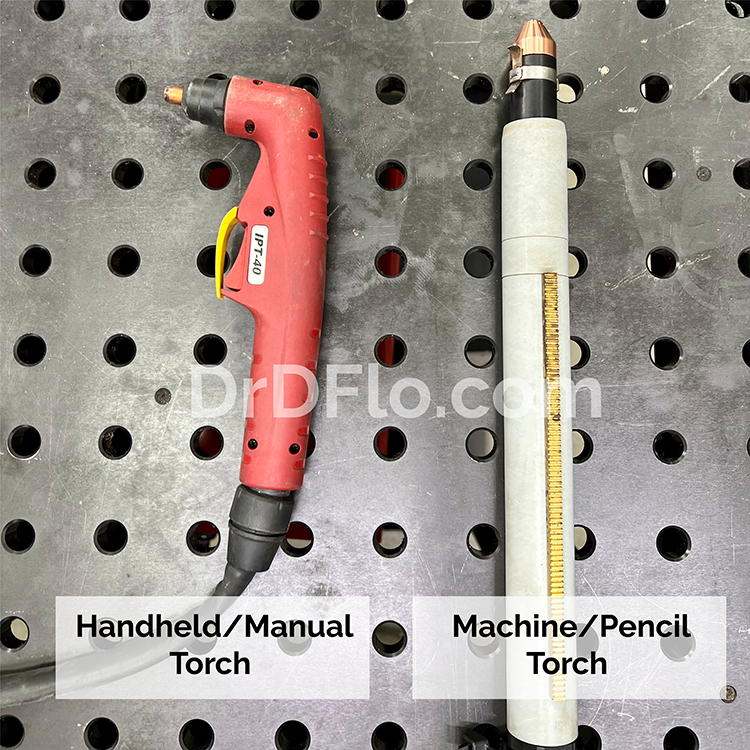 Plasma cutter power supplies marketed for manual operation often cost significantly less than those sold for mechanized cutting. This trend holds true for the torches, where pencil or straight torches commonly seen on CNC tables can cost an order of magnitude more than a handheld torch even though both contain the same components. For this reason, it is recommended to go with a handheld torch when building a budget table. The two drawback to the handheld torch are 1) it can be difficult to mount the linear actuator perpendicularly, which is required to prevent angularity in cuts, and 2) the torch's leads need to be more carefully managed.
Upgrading or Replacing Torch
If you are looking to replace a broken torch or upgrade to a machine torch, it is important to check two specifications: 1) the amperage rating of the torch and 2) the connector(s) on the end of the torch that plugs into the power supply.
Torch Amperage
Plasma torches that support higher amperages have larger conductors and more cooling capacity. Mismatching the torch and power supply can lead to at best premature wear of the torch but at worst bodily injury from an electrical shock or fire. Unfortunately, due to most vendors using different naming schemes for their torches it can be difficult to discern the maximum amperage capacity based on the name alone. The IPT65 and IPT80 are recommended for 65A and 85A plasma cutters, respectively, due to their straightforward names.
Torch Connector
The first connector type is not actually a single connector but instead several plugs and terminals bundled together, enabling separate features of the torch. The female M16 fitting on the compressed gas line is the only constant with this type of connector. The trigger and pilot arc signals could be aviation plugs, ring terminals, or another low-cost connector. It is easy to swap out these connectors for ones that fit your power supply, but it is not possible to make modifications to the gas line as it has a dual role of carrying the gas and current to the torch. Therefore, if your plasma cutter has an M16 male thread for compressed gas on the power supply then you must have a torch with an M16 connection. The P80 ( Amazon Link) is a machine torch with an M16 connection for those looking to upgrade.
The second type of connector is known as the Euro or Central connector. This is a more polished solution with all necessary electrical and gas connections bundled together and tightened down with one external nut. If purchasing a Euro-style torch from a different vendor, confirm that the pinout matches the female connection on your power supply as there is no standard for the arrangement of the signal pins. The below schematic is just one possible example. The PTM80 ( Amazon Link) is a machine torch with a euro/central connector for those looking to upgrade.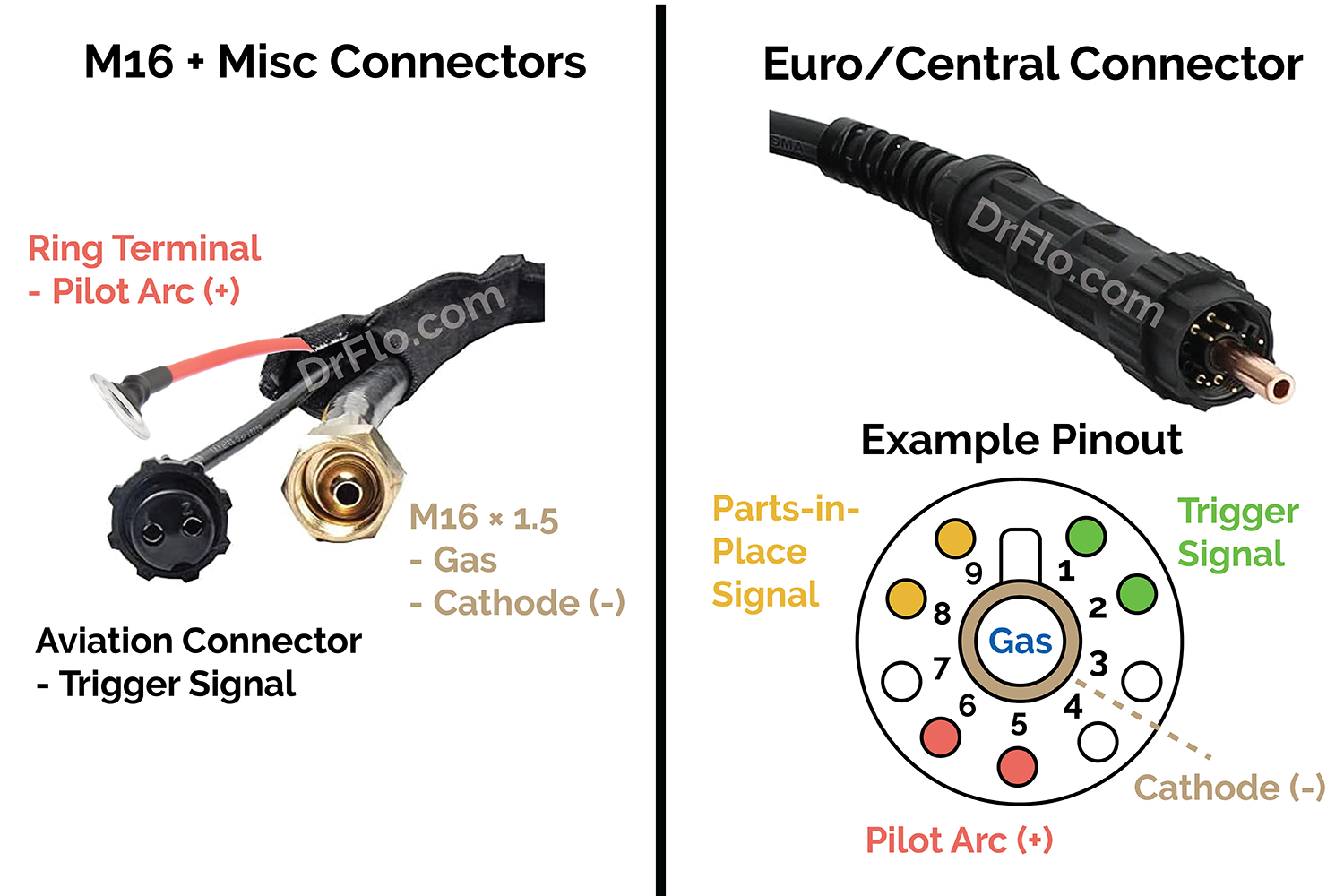 Consumables
The plasma cutting process causes significant wear and tear on the torch components that generate and maintain the plasma stream. For this reason, these parts must be replaced before they affect cut quality or in the worst case scenario, damage the torch. Different torches will use different sets or "stacks" of consumables. Below is a list of common consumables, their function, estimated lifespan, and product links for Hypertherm Duramax and PTM/IPT torches.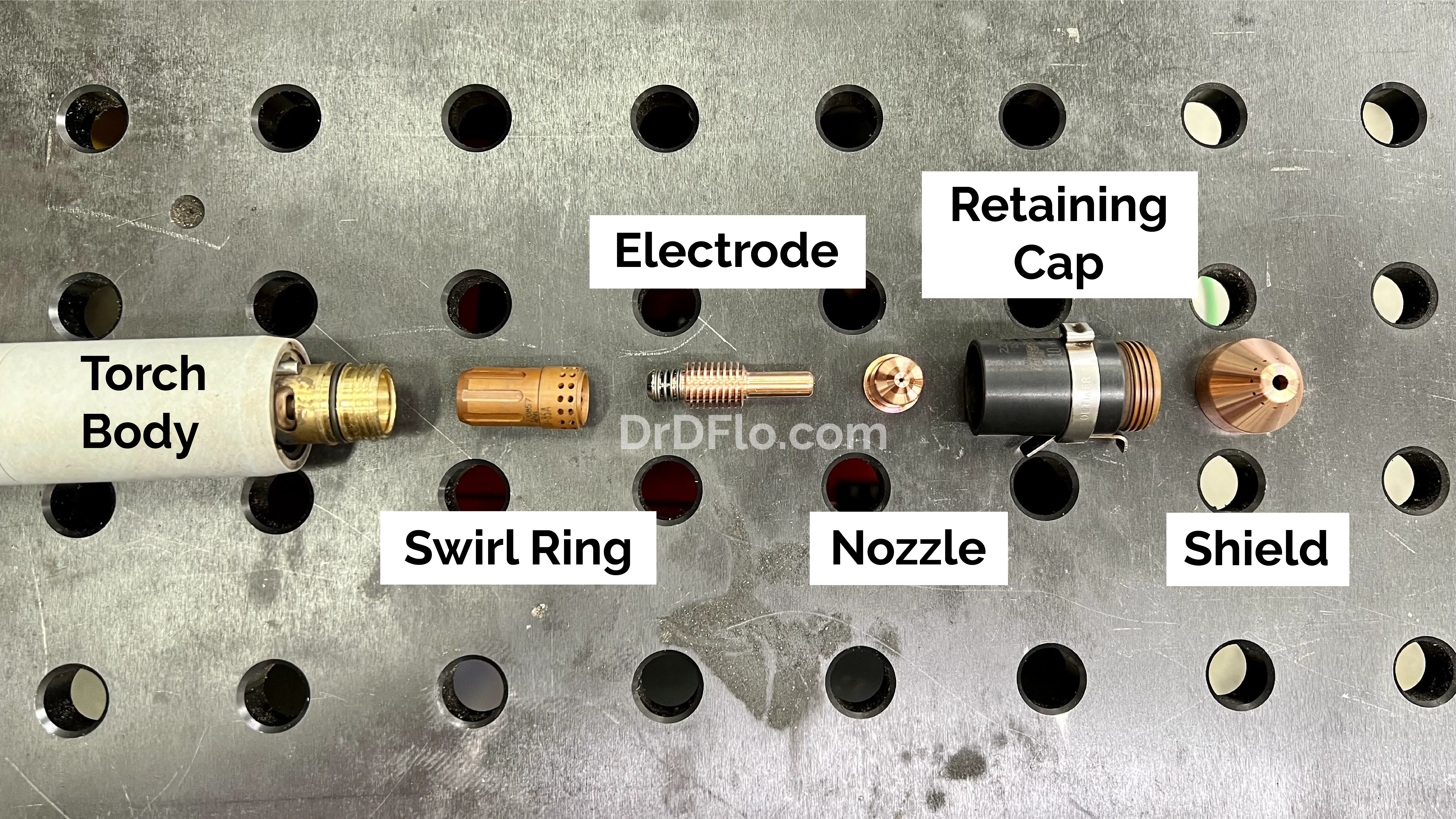 | | Consumable | Function | Estimated Lifespan | Duramax Replacment | PTM/IPT Replacement |
| --- | --- | --- | --- | --- | --- |
| | Shield | The shield protects all of the other components from sparks and molten metal. | > 25 hrs | Powermax 65/85 | PTM/IPT 60 and 80 |
| | Retaining Cap | The retaining cap holds together the consumable stack. Not all plasma torches have a retaining cap. | > 100 hrs | Powermax 65/85 | N/A |
| | Nozzles | The nozzle restricts the diameter of the plasma stream resulting in a precise and controlled cutting action. Higher amperages require nozzles with larger orifices for increased air flow. | < 4 hrs | Powermax FineCut, 45A, 65A, and 85A | PTM/IPT 40A, 60A, and 80A |
| | Electrode | The electrode emits electrons, which bombard the compressed gas forming the plasma. | < 8 hrs | Powermax 65/85 | PTM/IPT 60 and 80 |
| | Swirl Ring | The swirl ring imparts a rotational motion to the compressed gas as it passes through it funneling the plasma into a narrow column. | > 25 hrs | Powermax 65/85 | PTM/IPT 60 and 80 |
SmartSYNC Consumables
Hypertherm's new smartSYNC cartridges combine the shield, nozzle, electrode, swirl ring, and retaining cap as one replaceable cartridge. Even though all these components wear at different rates, the benefit of this system is that when you replace the cartridge everything should just work.
The cartridges use RFID chips to communicate with the new SYNC power supplies which will then change the cutting setting and set the appropriate amperage depending on whether you are cutting or gouging and which nozzle size is being used. The SYNC cartridges also track their life and suggest when they need to be replaced.

Compatible Plasma Cutters for DIY CNC Tables:
For in stock, ready-to-ship CNC compatible plasma cutters checkout my Amazon Store.
The list is ordered alphabetically by brand.
Please note that affiliate links are present in the table above. There are no advertisements on this website, so small comissions keep the bills paid. Thanks!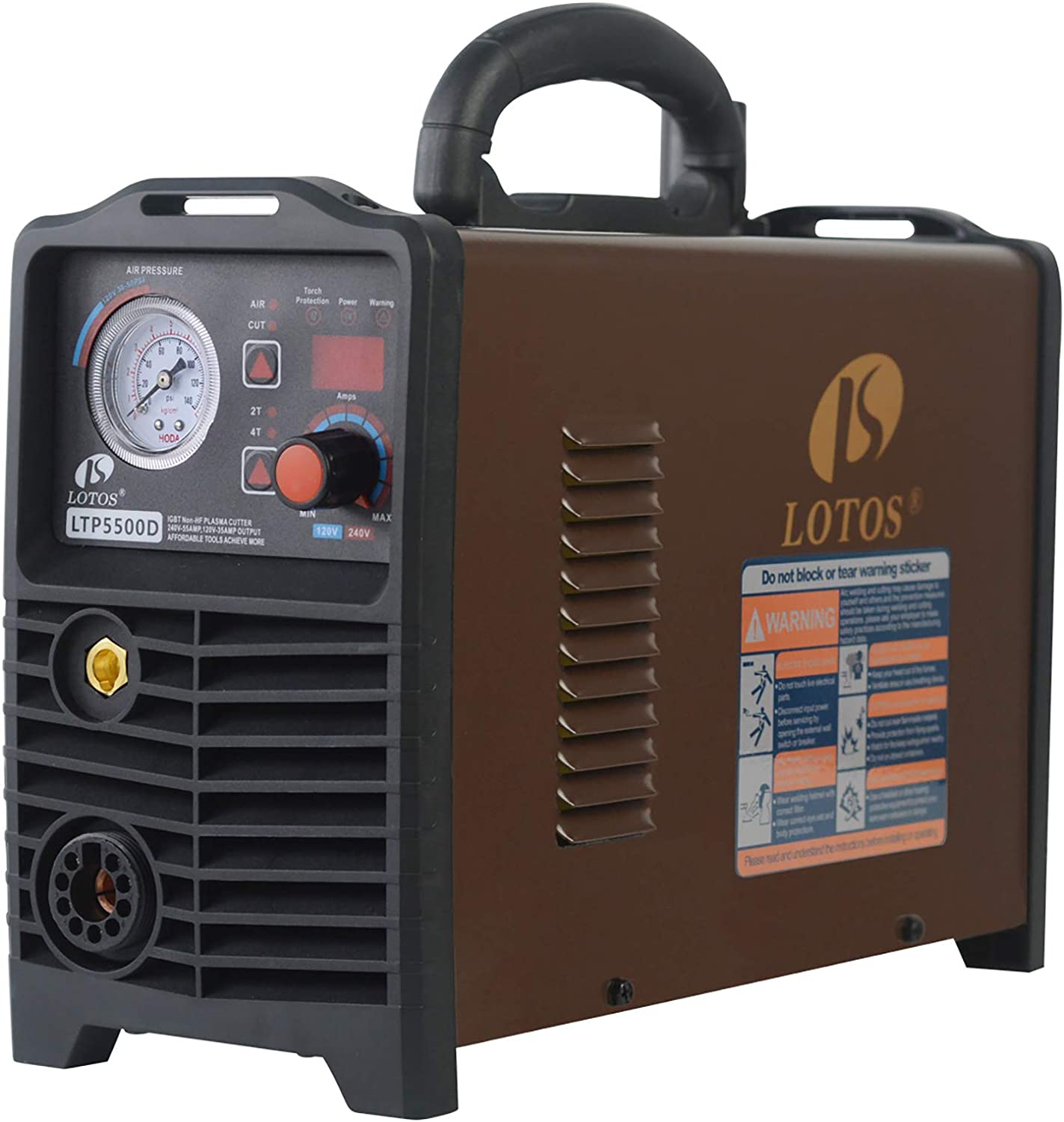 The Lotos Supreme LTP5500DCNC is a $500 plasma cutter that has all the features needed for proper mechanized cutting. Common aviator connectors allow easy access to the arc voltage for Torch Height Control (THC) and the "arc ok" signal, which allows the controller board to confirm that the plasma arc has been established. This plasma cutter can be powered by either 110V for a hobbyist setup or 220V for full access of the cut capacity and only requires a modest 4 CFM at 70 PSI of compressed air. The IPT-60 torch provided with the power source is common in the industry and the consumables are plentiful and affordable.
While the plasma cutter is rated for 55 amps it is only able to maintain a 100% duty cycle at 40A. Therefore, this cutter is best used for CNC cutting of 3/8" or thinner material. For thicker materials, the big brother LTP7500CNC is a 75A plasma cutter that can sever 1" material. While not tested by myself (or listed by the manufacturer), it is likely that this cutter has 100% duty cycle at 60A, a 50% improvement over the smaller unit.
Please note: Lotos sells both blowback and HF start machines. Make sure you purchase the unit with a model number that ends in "CNC."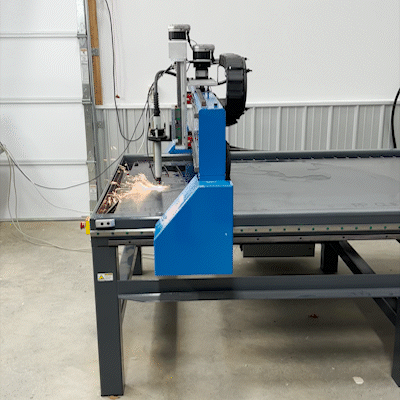 For several years, I ran my DIY plasma table with an HTP 875SC cutter. However, this plasma cutter has since been discontinued and as my projects grew, I needed to be able to cut 4' x 8' sheets. In late 2021, I purchased my first industrial table: the Sidekick 8 by ShopSabre. I wanted to get the most out this table's 1000 IPM travel speeds, so I opted for Hypertherm's PowerMax 85, which can make quick work out of 1/4" thick material, a size I planned to cut often. Being a part of Hypertherm's line, the PowerMax 85 can use FineCut consumables for tight tolerances and high-detail parts. The CNC port on the power supply interfaces perfectly with my WinCNC controller on the table. The controller board can precisely adjust the height of the torch through THC and the table always pauses if the torch fails to fire.
My main complaint about the PowerMax85 are the nuisance errors that pop up every now and then, which can only be cleared by turning the cutter on and then off again. For example, I have received an electrode stuck error on new consumables. Without making any adjustments to the torch, I will turn the power supply on and off and resume the cutting operation. The cutter will then go on without any problems until the consumables wear out. I have never had a problem with any of the spring-loaded electrodes getting stuck the IPT-40/60 torches, so it is strange that such a premium torch would have this problem. The other complaint would be the cost of the consumables and replacements parts. If you are new to plasma cutting or building a smaller table, then I recommend going with one of the lower-cost models and upgrading as your needs evolve as I did.
Air Compressors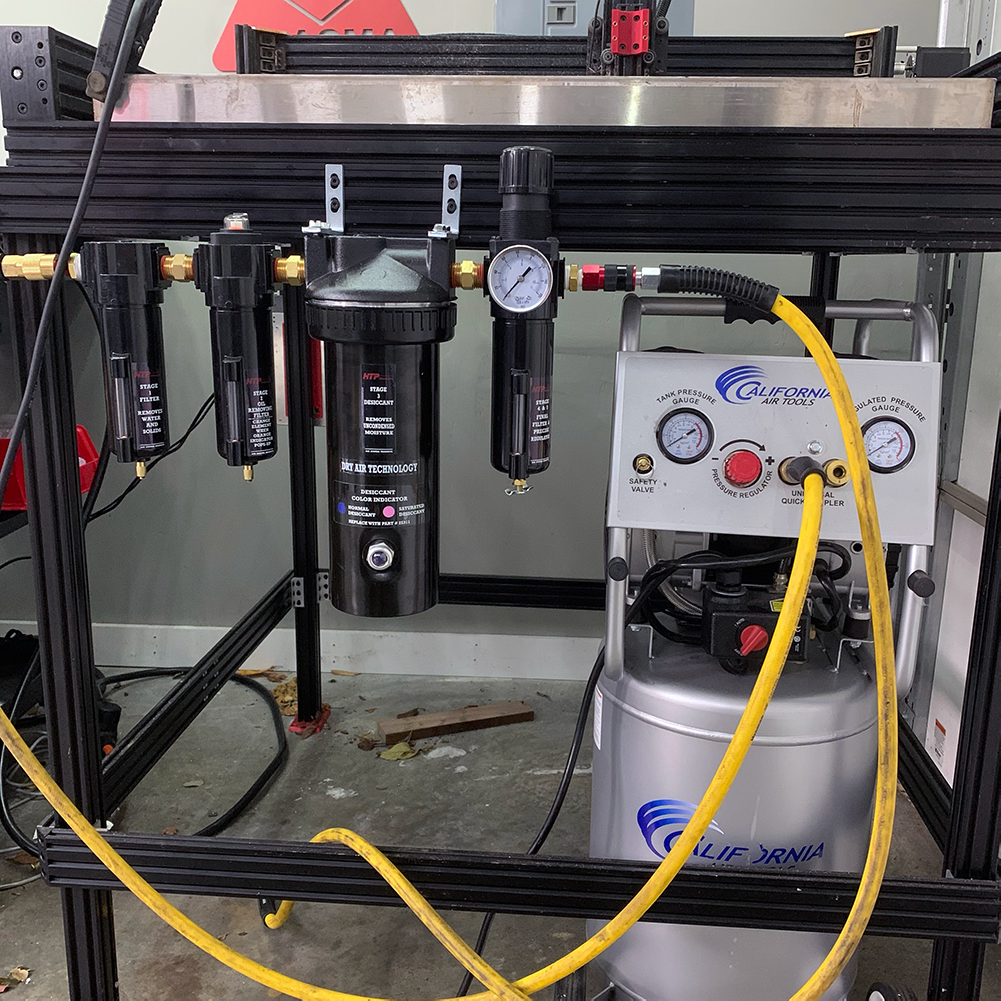 As discussed previously, plasma cutters consume significant quantities of compressed air. Plasma cutters have a cubic feet per minute (CFM) rating of how much air they need, which I listed in the table above. Typically, buying an air compressor with a CFM too close to that of the plasma cutter will be insufficient. The CFM of an air compressor is measured under the perfect conditions, which do not take into consideration the drop of air flow through a hose and filter. The rule of thumb is that the compressor rating should be at least double the requirement of the plasma cutter. Most air compressors have a duty cycle less than 100%, so purchasing a compressor with adequate head room will allow you to cut all day.
For plasma cutters that require around 3 CFM of air, I recommend the California Air Tools 10020C (5.3 CFM @ 90 PSI). This air compressor only requires 110V, so for sheds/garages with a limited number of 220V outlets this is a good option.
For plasma cutters that require around 7 CFM air, I recommend any 2 stage air compressor, such as this Campbell Hausfeld 80 gallon compressor (11.9 CFM @ 90 PSI).
Clean, Dry Air
The air that leaves the compressor needs to be filtered because it contains water, oil, and solid particulates, which can all wreak havoc on the torch and shorten the life of the consumables. Moisture in the air can increase the arc voltage causing the torch to dive into the material if THC is used. For these reasons, an air filter/dryer is a must. For occasional plasma cutting, I recommend Motor Guard air filter to remove unwanted particulates from the air leaving the compressor. However, with this unit you will need to replace the disposable filter often if you live in a humid climate. I am based out of Tennessee, and I had to replace the filter every couple of days. The cost of these filters add up and I eventually switched to an air dryer with more capacity.
If you plan to use your plasma table for any kind of production runs then a multi-stage air filter is a must. I recently switched to HTP's Max Dry 4 Stage Air Dryer and Filter, which removes liquid, oil, and debris from the air. This dryer is good for 25 CFM, which has plenty of headroom for plasma cutting.
Feedback

Did you encounter broken links or misinformation while reading this article? Please bring these issues to our attention by providing your feedback below.