Last Edited: November 26, 2020
Introduction to Plasma Cutters
CNC plasma cutting is one of the fastest and easiest digital fabrication technologies. However, some plasma cutters are not compatible with CNC tables, and purchasing one of these cutters can be a costly mistake. This guide includes an overview of plasma cutting features and requirements as well as a roundup of plasma cutters that are compatible with hobbyist CNC tables. Dr. D-Flo's current plasma cutter is at the end of this guide if you are interested.
High vs. Low Frequency Plasma Cutters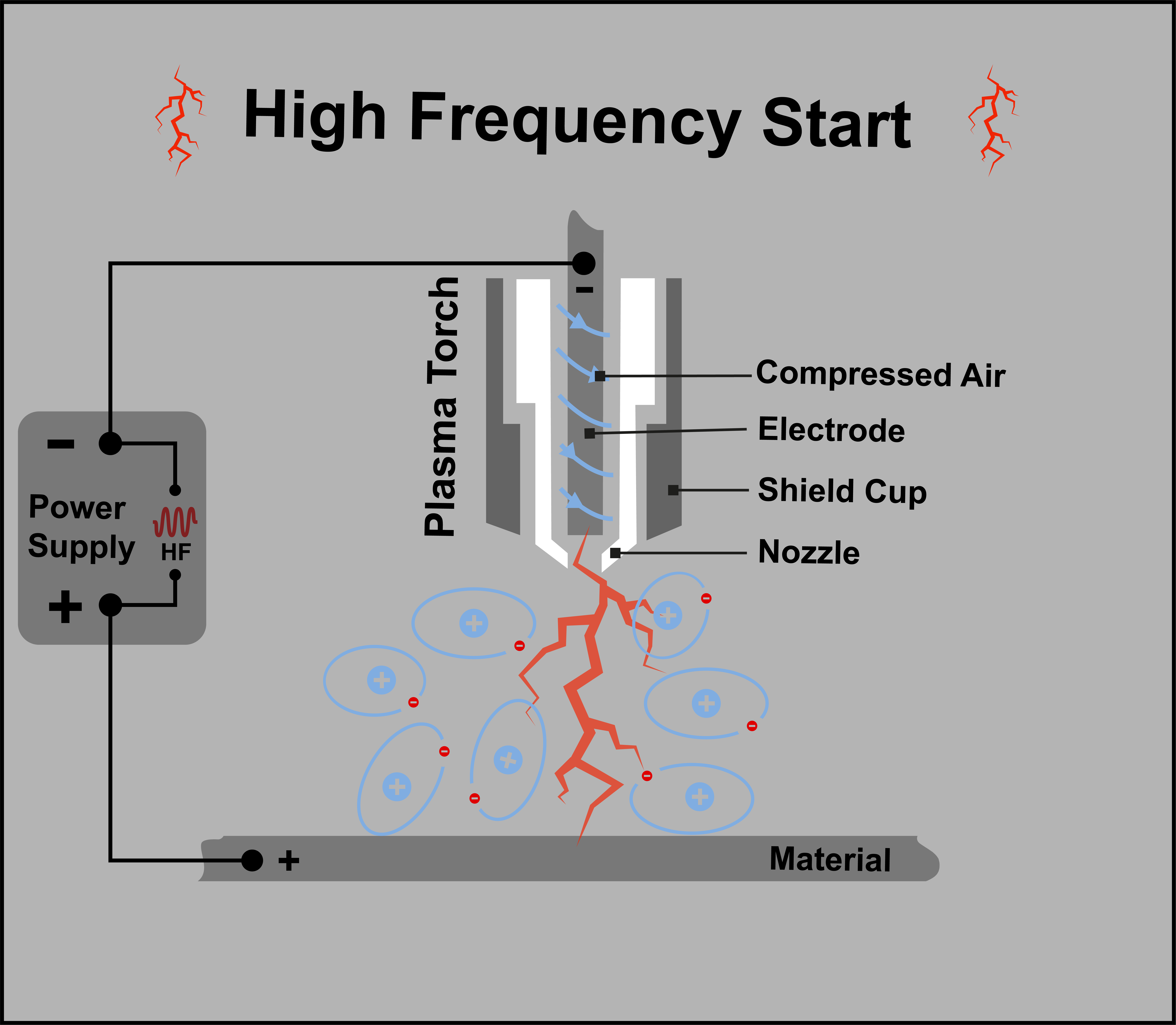 Unfortunately, not all plasma cutters are suitable for hobbyist CNC tables. Plasma cutters that rely on a high frequency (HF) AC voltage to start the plasma stream radiate a significant amount of electromagnetic interference (EMI). Proper grounding and an industrial control is needed to avoid erratic behavior of the machine when using a HF plasma cutter.
Less noisy plasma cutters use a technology known as "blowback" or "moving" start, where a moveable, spring-loaded electrode and a DC spark start the plasma stream. Blowback start plasma cutters produce significantly less EMI and can be used around CNC microcontrollers and electronics that have not been engineered to withstand high levels of electrical noise. Blowback start is a more complex way to initiate the plasma stream, and there is a significant upcharge when it comes to torches that use this technology and their consumables. In my opinion, this is money well spent because in my CNC plasma cutter video I spent a lot of time pulling my hair out trying to get a high frequency plasma cutter to work with my table. I have compiled a list of plasma cutters below that use this low frequency technology and should work with your DIY plasma cutter build.
Pilot Arc
A pilot arc is a secondary arc that is formed prior to ignition of the main arc that will cut the material. Plasma cutters that support pilot arcs will have a positive connection within the torch that allows for the pilot arc to be ignited even when the torch is not close to the material that will be cut. The pilot arc can slice through paint and rust, allowing for a consistent primary arc start. This consistency is important in CNC applications because the primary arc is turned on and off many times during to a program to move to separate features.
A common assumption is that if a plasma cutter has a pilot arc, then it is low frequency. This is NOT the case. Low and high frequency plasma cutters can have pilot arcs.
Power and Air Requirements
The maximum thickness of material that you plan to cut will dictate the amperage that the plasma cutter will need. The rule of thumb is that a 20A cutter can sever 1/8" (~ 3.1mm) material and each additional 10A will add another 1/8" of capacity. For example, 30A can cut through 1/4", 40A can get through 3/8", and so on.
Perhaps this is obvious, but metal gets heavier as it gets thicker. You may want the ability to cut 1" (~ 25.4mm) material, but can your table support the weight of this material? If so, do you have the correct tools for loading and unloading heavy parts (e.g., hoist)? If you do opt for a high amperage plasma cutter, then does your garage/shop have a receptacle that can supply the correct amount of amperage without tripping the breaker? If the answer is no, then you will need to run some conduit with the correct gauge wire and possibly even install a subpanel to feed the outlet. For garage/shed plasma cutting I recommend 40A plasma cutters. You can get away with a 30A 220V breaker/plug (although 40A or 50A is preferable), which is commonly used for washers and dryers.
Plasma cutters are not only power hungry but they also consume compressed air like there is no tomorrow. Compressed air flowing out of the plasma cutter's nozzle is used to blow away the molten material during the cutting process. It also keeps the torch cool and funnels the plasma stream into a tight column for accurate cuts. Not having an appropriately sized air compressor can result in poor cuts (see more details below).
The power and air requirements of the plasma cutter are the biggest hurdles for the hobbyist to overcome. If you stick with cutting thin material, then these requirments become less of a hassle.
Duty Cycle
Most small form factor plasma cutters, especially those that are meant for manual cutting, cannot operate continuously. The duty cycle refers to how long a machine can be run continuously or intermittently within a 10 minute period. For example, a plasma cutter with a 70% duty cycle can be run for 7 out of the 10 minutes but will require at least 3 minutes off to maintain safe operating temperatures. If a user attempts to cut for longer than the rated duty cycle, then the plasma cutter may attenuate the power or shut off completely.
With mechanized (CNC) plasma cutting, it is ideal to have a plasma cutter with a 100% duty cycle, so that delays do not have to be considered during the motion planning. However, most low-cost plasma cutters have a duty cycle of around 40 to 60% at their max power rating, and users will have to be mindful that they don't take too long of cuts. Typically, higher duty cycles can be achieved by using less power (lower current). If you want to cut at 40A (up to 1/2" material), then it is suggested to purchase a plasma cutter rated for 55A to achieve a higher duty cycle at 40A.
"Manual" Plasma Cutters for CNC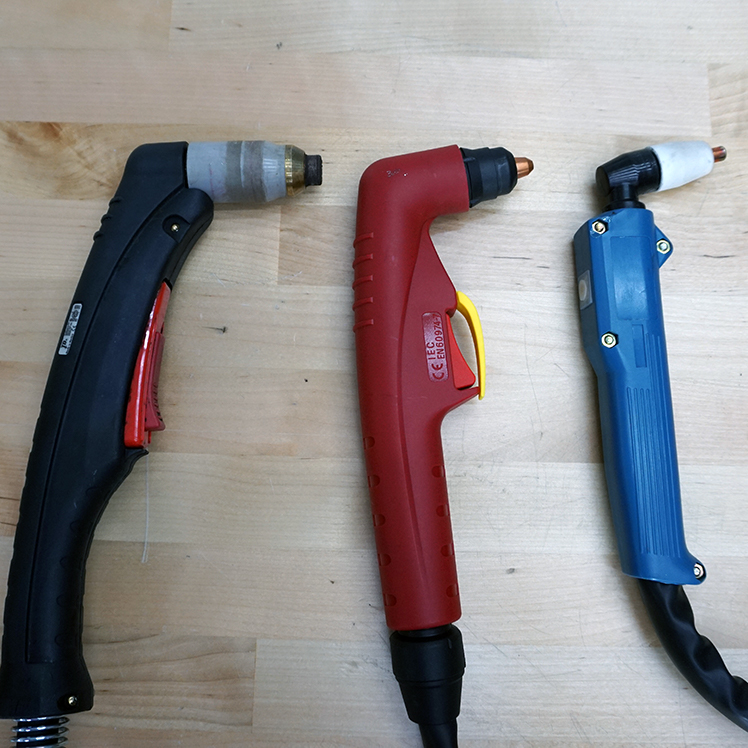 The list of compatible plasma cutters below are meant for those on a budget. Plasma Cutters that are marketed for CNC can cost significantly more compared to a similar model marketed for manual operation. As such many of these power supplies may need to be modified for CNC applications. Common modifications include splicing into the trigger circuit to allow for computer control over stopping and starting the plasma stream (see plasma cutter video for more information) and splicing into the arc voltage lines to measure the primary arc voltage for torch height sensing. There is a lot of overlap between the models of different brands. As a tie breaker I recommend selecting the plasma cutter where the local welding store has the torch consumables on hand.
An Incomplete List
This is by no means an exhaustive list of CNC compatible plasma cutters. For starters, I have only included plasma cutter that have a maximum amperage of less than 100A. I have also largely steered away from import plasma cutters because it's difficult to verify if these plasma cutters work without testing it out on my table. If you have a plasma cutter that has worked well for CNC and is not on this list, then please provide the make and model in the feedback forum below.
Compatible Plasma Cutters for DIY CNC Tables:
Please note that affiliate links are present below. There are no advertisements on this website, so small comissions keep the bills paid. Thanks!
The list is ordered alphabetically by brand.
Air Compressors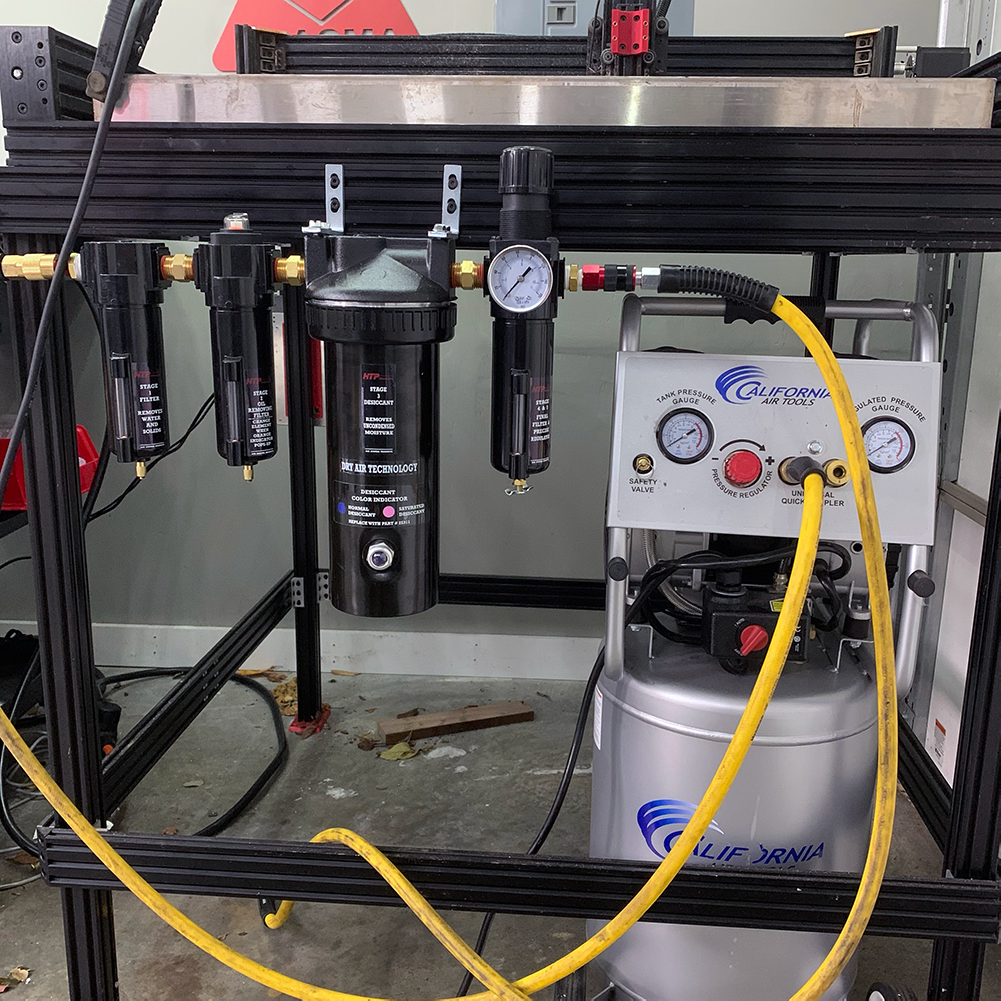 As I said at the beginning of this article, plasma cutters consume air like it's their last breath. Plasma cutters have a cubic feet per minute (CFM) rating of how much air they need, which I listed in the table above. Typically, buying an air compressor with a CFM too close to that of the plasma cutter will be insufficient. The CFM of an air compressor is measured under the perfect conditions, which do not take into consideration the drop of air flow through a hose and filter. The rule of thumb is that the compressor rating should be at least double the requirement of the plasma cutter. Most air compressors have a duty cycle less than 100%, so purchasing a compressor with adequate head room will allow you to cut all day.
For plasma cutters that require around 3 CFM of air, I recommend the California Air Tools 10020C (5.3 CFM @ 90 PSI). This air compressor only requires 110V, so for sheds/garages with a limited number of 220V outlets this is a good option.
For plasma cutters that require around 7 CFM air, I recommend the Industrial Air Two Stage Air Compressor (15.3 CFM @ 100 PSI).
The air that leaves the compressors needs to be filtered because it can contain water, oil, and solid particulates, which can all wreak havoc on the torch. An air filter/dryer is a must. For occasional plasma cutting, I recommend Motor Guard air filter to remove unwanted particulates from the air leaving the compressor. However, with this unit you will need to replace the disposable filter often if you live in a humid client. I am based out of Tennessee, and I had to replace the filter every 5 hours. The cost of these filters add up and I eventually switched to an air dryer with more capacity.
If you plan to use your plasma table for any kind of production runs, use a torch height controller, or cut aluminum, then a multi-stage air filter is a must. I currently use HTP's Max Dry 4 stage air filter and the edges on my aluminum cuts have never been sharper.
Dr. D-Flo's Plasma Cutter of Choice: MicroCut 875SC
Disclaimer: Dr. D-Flo's current plasma cutter was supplied as part of a partnership with HTP America. However, he was not paid to make these statements and he has access to other plasma cutters, but the 875SC is his plasma cutter of choice.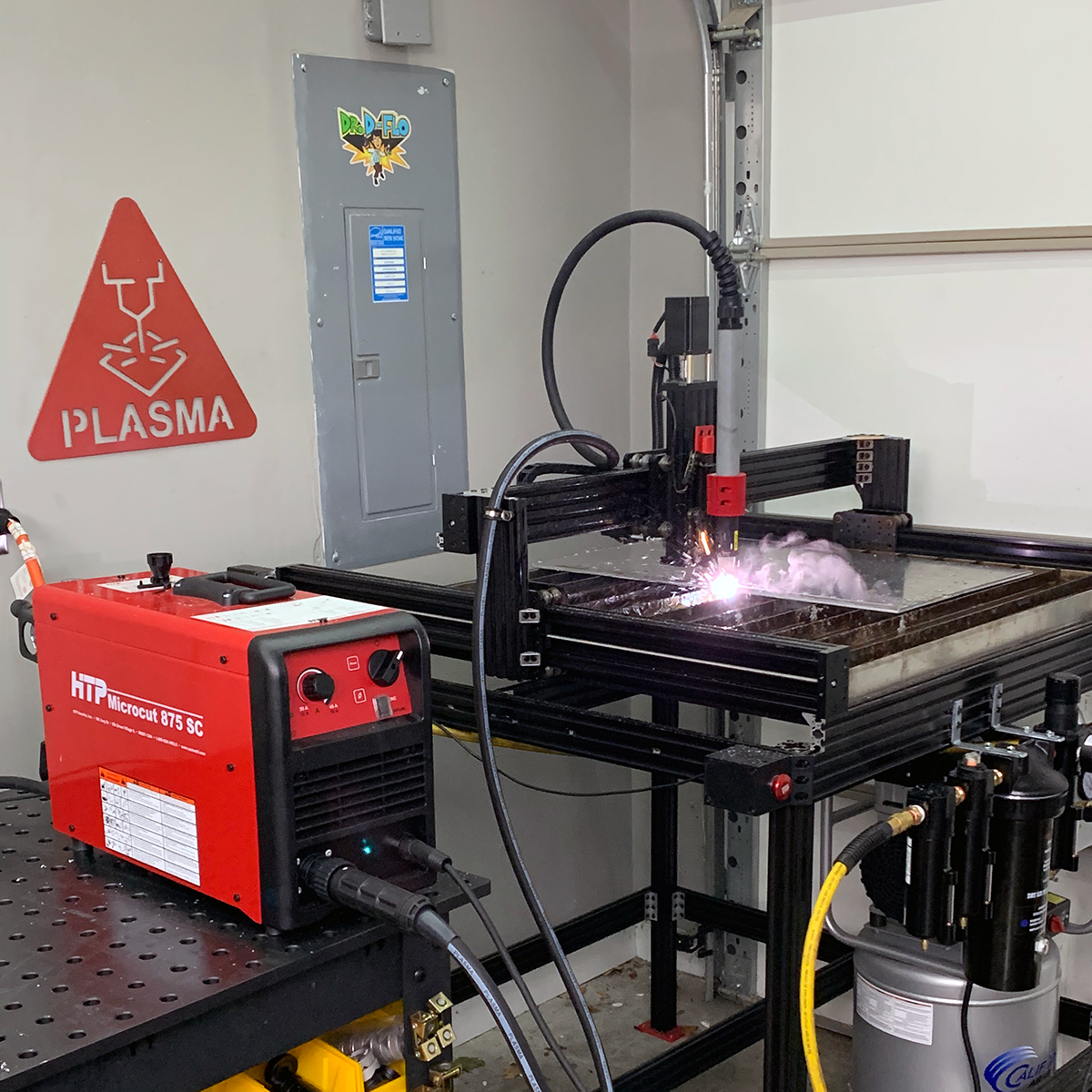 There have been a variety of plasma cutters on my OpenBuild's Plasma Table from imported cutters like the CUT50L to higher end models like Thermal Dynamics' Cutmaster 40. However, the 875SC is the first plasma cutter that was designed for CNC to be used on my table. And let me tell you, this cutter has a lot of CNC-focused features that make mechanized cutting much quicker and easier. First off, 40A of cutting current is the sweet spot for garage operations because of power limitations at the wall, and the 875SC has 100% duty cycle at this current. I no longer have to manually add delays to prevent overheating of the power supply or lower the current for long cuts. Next, The 875SC CNC package comes with a pencil/mechanized torch with 20' leads. Attaching a straight torch to the CNC table is simple and results in a more rigid connection between the table and torch compared to the mounts that have to be designed for awkward hand torches. The 20' leads are more than enough slack for most tables found in garages and small business. Finally, the 875SC has a built-in port with connections to the trigger circuit, arc ok signal, and arc voltage. There is no need to splice into the power supply to read the arc voltage for a torch height controller.
Now there are other plasma cutters with these features: namely, the Powermax45 XP Machine Version, but the 875SC costs significantly less than comparable competition. Coming in at about $2,000 (depending on promotions), the 875SC is firmly within reach of the hobbyist.
Feedback

Did you encounter broken links or misinformation while reading this article? Please bring these issues to our attention by providing your feedback below.