Building a FFF 3D Printer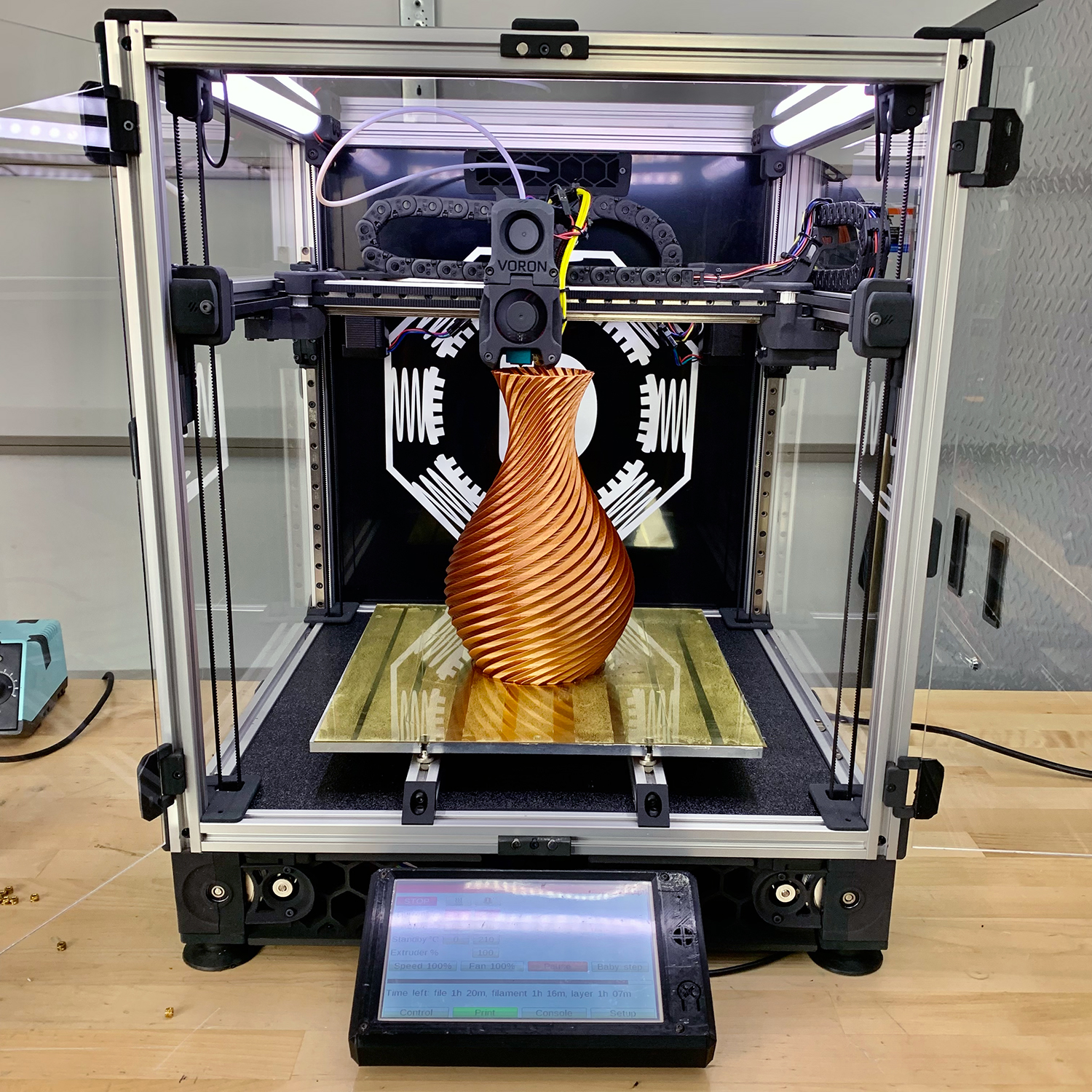 Fused Filament Fabrication or FFF is a type of 3D printing technology where parts are created through a layer-by-layer deposition of a molten thermoplastic. The extruder is responsible for heating up plastic filament and is fitted with a nozzle that controls the dimeter of the extruded fiber. It may help to think of the extruder as a fancy hot glue gun that is strapped to a series of rails that allow it to move in three dimensions, depositing material layer-by-layer.
Build it Yourself
The natural progression of 3D printing as a hobbyist is to buy a 3D printer, print a couple trinkets, realize that a 3D printer can print parts for another 3D printer, and then build a second printer. This is a slippery slope where you could unintentionally end up with more than a couple printers. Nevertheless, taking on the challenge of building your own 3D printer is not only fun but it is also an academic exercise where you will learn about linear motion, electronics, and a little bit of programming.
Do Some Research
Whether you are purchasing a kit or sourcing your own parts understanding the function of each component will allow you to build, upgrade, and repair your 3D printer with ease. This written guide (once complete) will contain Dr. D-Flo's most up-to-date information on the theories and parts that make up a 3D printer. If you are more of a visual leaner, then checkout Dr. D-Flo's 3D printing playlist for videos on the fundamentals of 3D printer building and how to build Voron 2.4 – one of the most popular DIY 3D printers today.
Ask Questions and Share
After exploring the topics below post your remaining questions to the forum. This guide will be improved based on your questions and comments. After finishing your printer, please consider sharing your design and experiences.
Have you chosen a printer design?
If you are still undecided on what printer you want to build, then check out Dr. D-Flo's roundup of the Best DIY 3D Printer Designs.
Essential 3D Printing Topics
Explore the topics below for an indepth overivew of all the parts and theories that go into building a 3D Printer.